2020 DISABILITY CONNECT NORTH AMERICA WELCOME

WELCOME
The 6th Annual Disability Connect Forum
via Live-Stream
VIEW PLAYBACK
| | |
| --- | --- |
| Recording 1 | Recording 2 – Continuation |
| | |
What do employees and customers who are Disabled, are LGBTQA+, and/or a Veteran have in common? In today's unprecedented times, it's more than ever. This year, Disability Connect event will focus on three important, high-stakes topics:
Race
The Pandemic
Political Landscape
Each focus area will be explored as it pertains to individually and across multiple constituencies. We'll address the impact of these issues on the:
Individual
Workplace
Marketplace
Society
This one-day, completely interactive event will be delivered via livestream.
Participants include:
Employee/Business Resource Group (E/BRG) Leaders and Members
E/BRG Executive Sponsors and Allies
Inclusion and Diversity professionals
Corporate executives and managers interested in the intersectionality of these three important constituencies, especially as it relates to Race, The Pandemic, and the Political Landscape.
Disability Connect is the perfect platform for which to make powerful connections, share best and next practices, and formulate success strategies aligning with the theme of Communities in Common.
Year-after-year, attendees say they leave the Disability Connect Forum with a broader perspective; inspired to collaborate in ways they never thought imaginable.
I look forward to sharing this most impactful day with each and every one of you.

Nadine Vogel, CEO
Springboard Consulting, LLC
CONGRESSMAN JIM LANGEVIN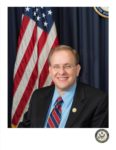 Senior member of the
House Armed Services Committee,
where he is the Chairman of the
Intelligence and Emerging Threats and Capabilities Subcommittee,
and of the
House Committee on Homeland Security.
(Biography)

AGENDA
The 6th Annual Disability Connect Forum
via Live-Stream
AGENDA FINAL – updated August 13, 2020
Please note:  In an effort to accommodate all time-zones, we are beginning the event a bit later and ending later.  All times are for Eastern Time, please adjust timing for your location.
Tuesday, October 27, 2020
Time
Topic
 
Springboard's 2020 Disability Connect Forum will focus on three important, high-stakes topics
1. Race
2. The Pandemic
3. Political LandscapeEach focus area will be explored as it pertains to Disability, LGBTQA+, and Veterans (individually and across multiple constituencies). We'll address the impact of these issues on the:• Individual
• Workplace
• Marketplace
• Society
 
10:30 am –  11:00 am
Welcome  & Introductions
 
 
TOPIC – Race
11:00 am – 11:30 am
Overview with all attendees
11:30 am – 12:00 pm
Breakout Rooms: Small Group Discussions
12:00 pm – 12:30 am
Breakout Rooms Discussions: Report to all attendees
 
 
12:30 pm – 1:00 pm
LUNCH
 
TOPIC – Pandemic
1:00 pm – 1:45 pm
Overview with all attendees
1:45 am – 2:30 pm
Breakout Rooms: Small Group Discussions
2:30 pm – 3:15 pm
Breakout Rooms Discussions: Report to all attendees
 
3:15 pm – 3:30 pm
BREAK
 
 
3:30 pm – 4:15 pm
Keynote
 
TOPIC – Politics
4:15 pm – 4:45 pm
Overview with all attendees
4:45 pm – 5:15 pm
Breakout Rooms: Small Group Discussions
5:15 pm – 5:45 pm
Breakout Rooms Discussions: Report to all attendees
 
 
5:45 pm – 6:00 pm
Conclusions, Next Steps & Closing Remarks
PROGRAM DETAILS:
INDIVIDUAL TICKET : $495 USD per person (includes 1-day Conference)
WHEN
Tuesday, October 27, 2020 | 10:30AM – 6:00PM ET
WHERE
Live-Stream
VISIT LANDING PAGE FOR LIVE-EVENT :
CONTINUE TO TICKET PURCHASE/REGISTRATION >