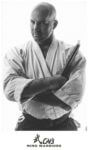 GREG VAN BORSSUM
National Mental Health Ambassador,
GVB Mind Warriors
International speaker and author on suicide prevention, team Leadership and how regular team practices affect all facets of life. Speaking both Nationally and Internationally for National Mental Health conferences, the construction & mining industry, Norton Rose Fulbright, Lifeline, Suicide Prevention Australia, Talking Lifestyles Radio, Lego corporation, Henry Schein Halas, NSW Police Force and many more.
Greg Van Borssum: A failed school kid who turned adversities into opportunities, from Martial Arts to Movies. Over the years Greg has accomplished an incredible level of achievement…the worlds youngest professional Natural Bodybuilder, a multiple black belt martial artist, and award winning Hollywood film maker. But the successes aren't what made him. It was forging his pathway to those achievements that taught Greg the value of the true Warriors Code. Battling through failure and loss, it was his resilience as a warrior that gave him the strength to turn setbacks into comebacks that have made him the mentor and speaker he is today.