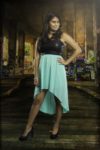 NATALIA SULCA
Vocalist
Natalia Sulca is a Vocalist from Miami Florida. At an early age, she was exposed to all kinds of music. She enjoys all of it, from the Disney music of her childhood, to the Latin classics learned at her father's knee. Influenced by artists such as Whitney Houston, Christina Aguilera, Aretha Franklin, and Carol King, Natalia hopes to blend elements of many genres both old and new to create a unique musical flavor.

As a Graduate of the Prestigious Berklee College of Music, Natalia has been the recipient of various awards, including The Celia Cruz Award, The VSA Young soloist award, and the Berklee Achievement Scholarship.

Natalia was recently mentioned on the Boston globe for her outstanding tribute to Valery Simpson at the Berklee College of Music Commencement concert. She has had the honor of performing with multi-Grammy award winners Alejandro Sans, Jose Feliciano, and Javier Limon. She has also been featured in The Latin Grammys, and the Discover orange bowl. She appears on various albums, including Is This Love, a Tribute to Bob Marley, produced by Sony music, as well as albums produced by Henry Stone, and the Miami Lighthouse for the blind.

Natalia's soul resounds through her instrument. Whether it is in front of thousands, or playing on a radio somewhere, she tells stories with her music. She believes that music is the one thing that brings all kinds of people together and takes them on unforgettable journeys.