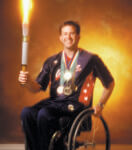 MIKE SCHLAPPI
CSP, MBA, Author, Gold Medalist, Hall of Fame

Keynote speaker Mike Schlappi has an inspiring message for every American, young or old: "Just because you can't stand up, doesn't mean you can't stand out." As president of Mike Schlappi Communications, and confined to a wheelchair, he is spreading that word to audiences ranging from students to chief executive officers, from rookies to Olympic champions, and from small gatherings to major conventions.
At the age of 14, Schlappi was student body president, had been awarded his Eagle Scout and was a competitive athlete when he was involved in a tragic shooting accident. Doctors told him he would never walk again, but after months of rigorous therapy, he began playing basketball from his wheelchair and went on to become an athletic standout.
Schlappi is a four-time Paralympic Medalist and two-time World Champion in Wheelchair Basketball. The only wheelchair basketball player in the United States to be on four consecutive summer Paralympic teams, Schlappi was honored by the state of Utah in 2000 as one of its Top 50 athletes of the past century. He served on the board of trustees that managed the 2002 Winter Olympic Games in Salt Lake. He is the founder and director of the Wheelchair Sports Foundation, a non-profit organization that serves disabled athletes. Schlappi has recently been inducted into the Wheelchair Basketball Hall of Fame.

Hoping to inspire others through his experiences, Schlappi hung up his sneakers and transitioned from the sports arena to the speaking platform. His engaging presentations have entertained and inspired thousands of audiences worldwide. Schlappi's thought-provoking story challenges individuals to succeed despite difficult circumstances by empowering themselves and accepting personal responsibility. He received his CSP (Certified Speaking Professional) from the National Speakers Association in 2003.

Off the basketball court, Schlappi graduated with a master's degree in Business Administration and Healthcare from Arizona State University, and on a leadership scholarship, earned an undergraduate degree in Finance from Brigham Young University. His personal experiences with nurses, doctors and therapists not only saved his life, but also pointed him to a career in healthcare He spent many years working for Intermountain Healthcare in rehabilitation. Schlappi is also a writer and author of three popular inspirational books which draw heavily on his own experiences and the challenges he's overcome: Shot Happens, Bulletproof Principles for Personal Success and Motivational Leaders.

He has won numerous honors including the American Medical Association's Special People Award, The Sporting Goods Manufacturer of America's Heroes Award and the Golden Key Athlete of the Year Award. Mike has also been inducted into the Hall of Fame for Wheelchair Basketball.

Mike and his wife, Tami, reside in Draper, Utah and are the stressed parents of five kids!