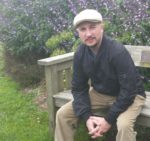 GENE SILVESTRI
Private First Class (PFC)

Private First Class (PFC) Gene Silvestri is a married, U.S. Army disabled transgender veteran. Gene entered the U.S. Army in 2002, hopeful and determined to serve his country. He began training in Fort Leonard Wood, Missouri in the fall of that year. Things were off to a great start but that didn't last. A few months into his Military Police training, an unexpected accident occurred, changing the course of Gene's life forever. He fell approximately 50 feet from the warrior tower onto a mat with ice. He survived the fall and received an honorable medical discharge in 2003.
Long periods of isolation, hopelessness, chronic physical pain, depression, and anxiety followed. It was also during this time that Gene came to understand that he is transgender. This is where his journey to authenticity begins, finding the courage, strength, and perseverance to pick up the pieces and move forward.
Due to his experiences in navigating VA health care as a transgender man, Gene became involved in community outreach and advocacy for all veterans. Currently, Gene serves as the Vice President and social media director for the Transgender American Veterans Association (TAVA). He also serves with the American Military Partner Association (AMPA) as their Veterans Affairs Coordinator.