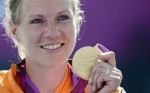 ESTHER VERGEER

Born on July 18th in Woerden, the Netherlands. Esther is one of the most successful professional athletes in Dutch history. On February 12, 2013 she ended her tennis career. She is currently developing her second career.
Seven times Esther won gold at the Paralympic Games and she was ranked the top player 13 consecutive times during her tennis career. After remaining unbeaten in singles for a streak of 470 matches she ended her career. The Woerden native is now CEO of her own Foundation (Esther Vergeer Foundation) in which capacity she stimulates children and youngster with a disability to participate in sports.
Her role as a leader is becoming more and more defined in activities surrounding sport. She is the director of the ABN AMRO tournament World Wheelchair Tennis Tournament in Rotterdam. She applies herself by sharing her experiences with other athletes in her role as advisor of the NOC*NSF (Paralympic Team NL), and she also gives many presentations in the corporate world both nationally and internationally. Apart from that she also completed a Master study "International Sports Management" at the Johan Cruyff Institute.
It is her mission to inspire people (with and without a disability) to become the best they can be. Through all her activities she is doing her bit.