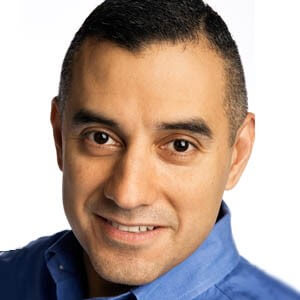 ERIC ALVA
Iraq War Veteran and LGBT Rights Activist
Eric Alva was born in San Antonio, Texas in December 1970. Upon graduation from high school in 1989, he attended community college for two semesters but then decided to join the United States Marine Corps. After serving in Somalia during Operation Restore Hope, and ten years of being stationed in Japan and California, Alva was called upon to serve in the Iraq War.
In January 2003, in the build-up to the war, Alva's unit, the 3rd Battalion 7th Marines, was deployed to the Middle East. His unit was among the first to cross the border of Kuwait into Iraq for the start of Operation Iraqi Freedom. Three hours into the ground war, near the city of Basra, his unit stopped to rest. While stepping out of his vehicle, Alva triggered a landmine. The violent explosion threw him 15 feet from the vehicle, and left him with a broken left leg; a torn open, severely nerve-damaged broken right arm; and a badly injured right leg that was later amputated. He had become the first American wounded in the war, and the war's first Purple Heart recipient.
After 13 years of military service, retiring as a Staff Sergeant, Alva went back to college to finish his degree. While at school, he decided to be true to himself and help others, coming out as gay. On February 28, 2007, he joined Congressman Martin Meehan in introducing the Military Readiness Enhancement Act, a bill designed to repeal the military's "Don't Ask, Don't Tell" policy. With this step, he openly admitted to the military and the world that he is gay, and one that had served and proudly sacrificed for his country. Alva took a courageous step towards fighting for the rights of LGBT Americans, and in particular, for those who have served and are serving in the military, but are unable to be true to themselves. His goal is to help achieve civil rights for all citizens of the United States.
In December of 2010, Eric stood next to President Obama as he signed legislation repealing "Don't Ask, Don't Tell." Since the repeal, Alva now focuses on diversity in the workplace, and by him speaking out against the military, he proved that no matter what diverse background an individual comes from, it is important to judge individuals on their merit and professionalism. He has spoken to numerous Universities and Companies around the country. Eric has been to schools such as Northwestern, Duke, Loyola College, Florida University, and companies such as Johnson & Johnson, Toyota, Raytheon, Sodexo, Pepsi Bottling Group, AOL, Union Pacific Railroad, and NASA. He speaks on the importance of diversity in people's lives. As a Hispanic, disabled, Veteran and gay individual, Eric shares his story of his life and his experiences. He also sits on several boards and commissions, and is on the platform committee for the Democratic National Committee.
Among Alva's awards and recognitions for his service is the 2003 Heroes and Heritage Award from La Raza, the 2004 Hero's Among Us award from People magazine, the 2004 Patriot Award from the city of San Antonio, and the 2008 Public Citizen Award from the National Association of Social Workers. Alva is also the 2011 recipient of the Elizabeth Birch Equality Award, named for the former executive director of the Human Rights Campaign, which recognizes outstanding contributions to the LGBT community.
Eric graduated with his Master's in Social Work in 2009 and continues to live in San Antonio with his two dogs Bo and Sandy; and continues to work towards Social justice.