WELCOME

11th Annual
Disability BRG Professional Development &
Leadership Summit
Where: Live-Stream
THIS EVENT WILL BE A VIRTUAL LIVE-STREAM DUE TO THE COVID-19 PANDEMIC ADVISORY.  
***************************************************************************************
Business Resource Groups (BRGs) play an important role, impacting our workforce, workplace and marketplace. This is especially true for Disability BRG's, influencing and impacting issues such as accessibility, learning and development, talent acquisition, development, management and retention, engagement and more. When managed well via its leadership and executive sponsorship, these groups closely align with business goals and objectives. Disability BRG's also serve as a great resource for its members, enhancing the benefits of the workplace. When intersectionality with other BRG's, such as the one for Veterans and LGBTQ is recognized, the impact is even greater for the entire organization.
Springboard's annual Disability Leadership Development Summit is open to disability BRG Leaders and their Executive Sponsors to address issues of mission/vision, segmentation, strategic planning, individual and group leadership, process, governance, practice, alignment and more. Whether the company is planning to launch its first disability BRG or it has had one for thirty years, this summit will help participants develop new ideas and innovative practices that will successfully impact their groups effectiveness and sustainability.
PRICING*:
$495 USD:   BRG Summit- Individual Registration & General Admission (regardless of registration, in order to gain entry to the event, you must be a corporate disability BRG leader).
Should you have any questions, please contact:
WELCOME

11th Annual
Disability BRG Professional Development &
Leadership Summit
Where: Live-Stream
BRG SUMMIT
Tuesday, April 27, 2021 | 10:00AM – 2:00 PM ET
AGENDA
(Updated February 15, 2021)
TUESDAY, APRIL 27, 2021
Time                
Topic
10:00 am – 10:15 am
Welcome and Opening Remarks
10:15 am – 11:15 am

When Everyone is at Home

Description: A discussion about member engagement, challenges, unique issues relative to accommodations, home-schooling SN Children, return to work.

11:15 am – 11:45 am
Break into Groups
11:45 am – 12:15 pm

LUNCH

12:15 pm – 1:15 pm

The Expanded Disclosure and Impact of Mental Health

Description:  How does this topic impact the BRG, if so how and how to address, does it create new challenges or opportunities?

1:15 pm – 1:45 pm

Break into Groups

1:45 pm – 2:00 pm
Closing Remarks & Farewell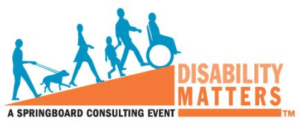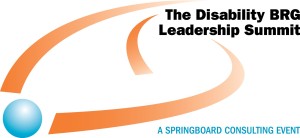 Please complete the registration form below, then click "Submit" to continue to the PayPal payment page to complete the ticket purchase and registration process.  If payment is not made, the registration process is not finalized.   If you have any questions, please contact Ivette Lopez; E: ivette@consultspringboard.com; T: +1-973-813-7260 x.102.