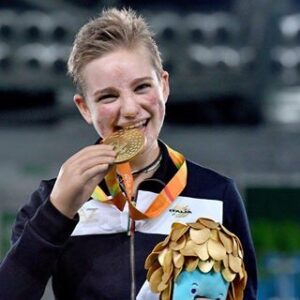 BEBE VIO
Athlete/Medalist,  Fencing
Bebe was born in Venice on March 4, 1997. Since childhood, she has always been lively and full of interests: school, design, Girl Scouts and especially fencing. When she was 11, a sudden attack of meningitis caused her to lose her arms and legs.
One of her greatest wishes was to be able to go back to sports and she succeeded, together with Art4sport Onlus and a team of specialized technicians.
Bebe was the first athlete of the art4sport team.
In January 2010, she began to practice fencing, now in wheelchair, and in May 2010, she competed in her first official match in Bologna. Since then she has participated in ever more exciting and entertaining competitions.
Thanks to Paralympic fencing, she has been having wonderful experiences that are filling her life with satisfaction. Since 2010, she has returned to competition, gaining much success. After winning the European and the World Cup in 2014 and again the World Cup in 2015, she had an extraordinary season in 2016. She won the European and the World Cup and the individual gold and team bronze medals at the Rio Paralympics of 2016.