2015 DISABILITY BRG PROFRESSIONAL DEVELOPMENT LEADERSHIP SUMMIT – ABOUT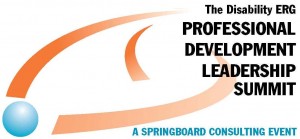 SPONSORED BY: 



DATE & LOCATION:
Tuesday, April 14th, 2015
8:00 AM-4:00 PM EST
Unum Headquarters
1 Mercantile Street
Worcester, MA 01608, United States
WELCOME:
Many factors contribute to a successful Disability Resource Group.  Whether you refer to yours as an Employee, Affinity or Colleague Resource Group, having the right leadership team and the right executive sponsor can make all the difference.  This year's Summit will address these two important issues and many more.
Attend the 2015 Summit for:
Candid discussions with today's leading Disability ERG Executive Sponsors
Insight into proven ERG leadership training and coaching programs
Innovative, game changing ideas and best practices
 Networking with like-minded peers from across Corporate America
This one-day intensive in-person session will be invaluable in helping you successfully start, re-start and/or grow your Disability Resource Group.  And remember, the Summit takes place just before the start of the Disability Matters Conference so plan on attending both to make 2015 a truly game-changing year for your Disability ERG and all of your disability related initiatives.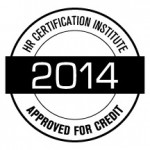 Approved for 6.00 Credit Hours
"The use of this seal is not an endorsement by the HR Certification Institute of the quality of the program. It means that this program has met the HR Certification Institute's criteria to be pre-approved for recertification credit."
PRICING*:
$495 per person: General Admission (regardless of registration, in order to gain entry to the event, you must show proof of being a corporate disability ERG leader at the registration desk on the day of the event.)
$395 per person: Disability ERG Leadership Networking Forum Subscribers and Sponsors of the 2015 Disability Matters N.A. Conference & Awards.
*Includes light breakfast and lunch
RSVP:
Purchase a ticket and register no later than Friday, March 27, 2015 or until capacity is reached.
Should you have any questions, please contact Jill Frankel at jill@consultspringboard.com or via telephone: 1-973-813-7260 x. 106.
REMINDER:
Show your commitment to the success of your company's Disability Employee Resource Group by joining our amazing presenters, your peers and our Summit Host, Unum on Tuesday, April 14th at Unum headquarters in Wocester, MA for a one-of-a-kind experience of education and networking.
While in town, the 2015 Disability Matters North America Conference & Awards, Hosted by: EMC Corporation will start the evening of Tuesday, April 14th and continuing for two days, Wednesday and Thursday, April, 15 & 16 at Simmons College in Boston, MA . If you are interested in attending please contact Jill Frankel at jill@consultspringboard.com or via telephone: 1-973-813-7260 x. 106 for more information.
HOTEL:
ROOM-BLOCK WILL CLOSE ON FRIDAY, MARCH 20, 2015
The Colonnade Hotel
120 Huntington Avenue, Boston, MA 02116
Phone: 617-424-7000
Toll Free: 1-800-962-303
http://www.colonnadehotel.com/the_hotel/
Parking at The Colonnade:  $42.00 USD, per day/per vehicle
GROUND TRANSPORTATION:
Download The Colonnade Logan Airport Transportation Information Sheet

SHUTTLE SERVICES:
Round trip shuttle service will be provided to Unum from the Colonnade Hotel.
PARKING:
The address of the Unum building is:  1 Mercantile Street;  please note, this address is not in all GPS systems.
If  using a GPS, please enter/use address:  51 Foster Street,  as your destination, this is the address of the City Square Garage, which is closest to the Unum building.
Please refer to map provided in the link below.
Be aware that you will be on Foster Street and that you will pass the Unum building to get to the garage.
As you enter the garage:
Push the speaker button and let security know that you are here to attend the ERG Summit.
Visitor parking spaces are the first spaces that you see when you enter the garage and they are marked.
You can park in a visitor space and then walk to the front of the building and be checked in by security.
For a copy of the Unum Campus Map, click to download or copy/paste the following URL into your browser to view – https://consultspringboard.com/wp-content/uploads/2014/06/Unum-Map-10082014.pdf.
GO TO TICKET PURCHASE & REGISTRATION >
The Disability ERG Professional Development Leadership Summit
AGENDA
Tuesday, April 14, 2015
Time
 
Topic
08:00 am – 08:30 am
 
Registration and Continental Breakfast
 
 
 
08:30 am – 08:45 am
 

Welcome & Introductions

Nadine Vogel, CEO Springboard Consulting LLC
Michael Simonds, President & CEO Unum US

 
 
 
08:45 am-10:15 am
Leading Leaders:

 

How Your Executive Sponsor Makes Your ERG Message Matter
Using EMC's Disability ERG, DERG, as a case study, Don Potter, VP, HR Operations and DERG Executive Sponsor, will walk participants through the scope and impact of messaging for a range of corporate audiences from shareholders to executive leaders and everyone in-between.
 
10:15 am-10:30 am
BREAK
 
 
 
10:30 am- 12:00 pm 
 

Leading ERG Participation: A Diversity & Inclusion Perspective
Via an interactive fireside chat with Ken Barrett, General Motor's Chief Diversity Officer, participants will see ERGs through the lens of a successful CDO. Ken will also discuss the challenges and opportunities of making ERGs accessible to everyone, including hourly and union employees.

 
 
 
12:00 pm-12:45 pm
 
NETWORKING LUNCH
 
 
 
12:45 pm – 02:00 pm
Leading Strategically:

 

The Imperative of People With Disabilities
Stephen Pelletier is Prudential's President of U.S. Business while simultaneously serving as the company's Disability BRG, ADAPT, Executive Sponsor. Stephen will share how he integrates being an executive sponsor into the success of the business, why he champions ERG executive sponsorship as a consideration for senior level success and his keys for honing an Executive Sponsor's impact.
 
 
02:00 pm – 03:45 pm
Developing ERG Leaders:

 

The Imperative, Curriculum and the Investment
Rita Shauger, Coordinator, Global Diversity & Inclusion and Co-founder of ADAPT, Corning's Disability Affinity group will discuss the "why" and "how" Corning has invested in formal training of its' ERG leaders. She will share the curriculum, delivery, expectations and impact along with its' amazing global reach. Participants will be given an opportunity to experience a module from the program, getting a first-hand experience of how ERG leadership can translate to company leadership.
03:45 pm – 04:00 pm
 Wrap -up and Next Steps
 
GO TO TICKET PURCHASE & REGISTRATION >