2015 Disability Connect North America: Welcome

We at Springboard are so excited to be producing the Second Disability Connect event for and about Corporate Disability, LGBT and Veterans Employee Resource Group members, leaders and their sponsors. Hailed as the premier business event for addressing the issues and opportunities that impact one, two or all three groups in the workplace; expectations are great, but the reality will be even greater.
Disability Connect is the perfect platform for which to make powerful connections, share best practices and formulate strategies aligning with the theme of Communities in Common.
In addition to learning from one another, attendees will learn, be inspired, and will be included in Springboard's Disability/LGBT/Veterans ERG Member/Leader Registry, the first such network in the world.
It is my hope to share this powerful, event with you, your ERG members, leaders, and sponsors. Register today!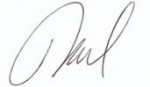 Nadine Vogel, CEO
Springboard Consulting, LLC
INDIVIDUAL TICKET

$495 USD per person (includes 1-day
Conference & Luncheon)
WHEN
Thursday, October 22, 2015
8:15AM – 5:00PM EST
WHERE
Wells Fargo & Company
Wholesale University
550 S. Tryon Street – 10th Floor
Charlotte, NC 28202
Rooms: Tryon and Stonewall
Hosted By
Wells Fargo & Company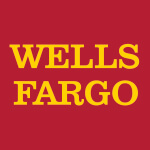 SPONSORS

PROGRAM DETAILS
The Second Annual Disability Connect Forum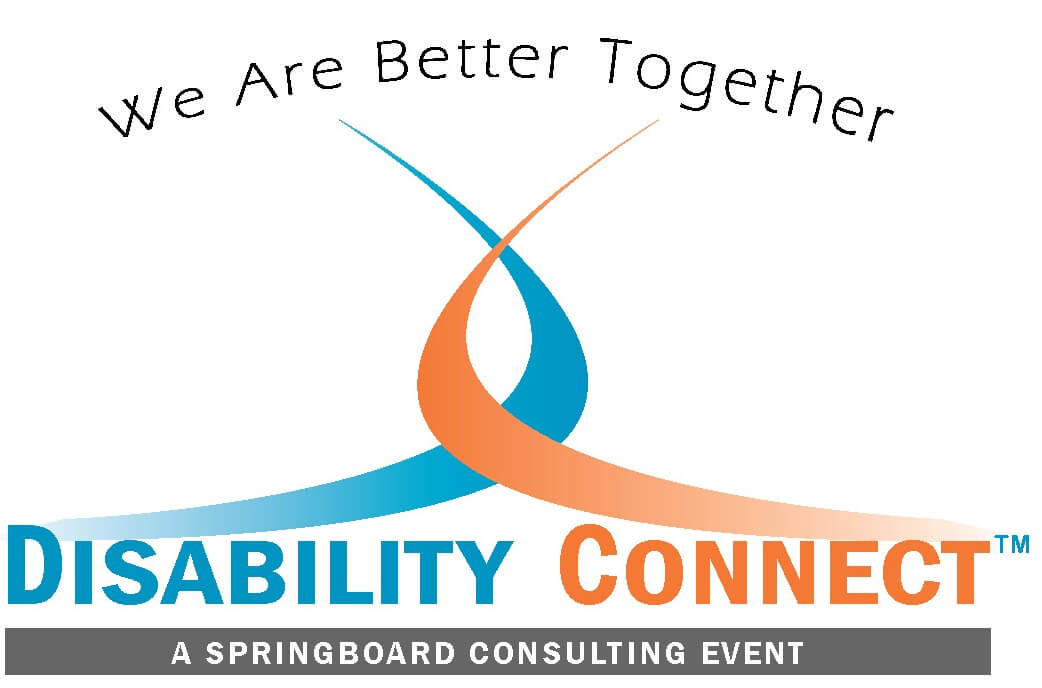 Thursday, October 22, 2015
| | | |
| --- | --- | --- |
| Scheduled Time | Session | Location |
| 8:30AM - 9:00AM, EST | Registration / Breakfast | Tryon and Stonewall |
| 9:00AM - 4:45PM, EST | Conference | Tryon and Stonewall |
| | | |
LOCATIONS:
Wells Fargo & Company
Wholesale University
550 S. Tryon Street - 10th Floor
Charlotte, NC 28202
Rooms: Tryon and Stonewall
EVENT ATTIRE:
HELP:
If you have any questions regarding this conference, please contact:
AGENDA
The Second Annual Disability Connect Forum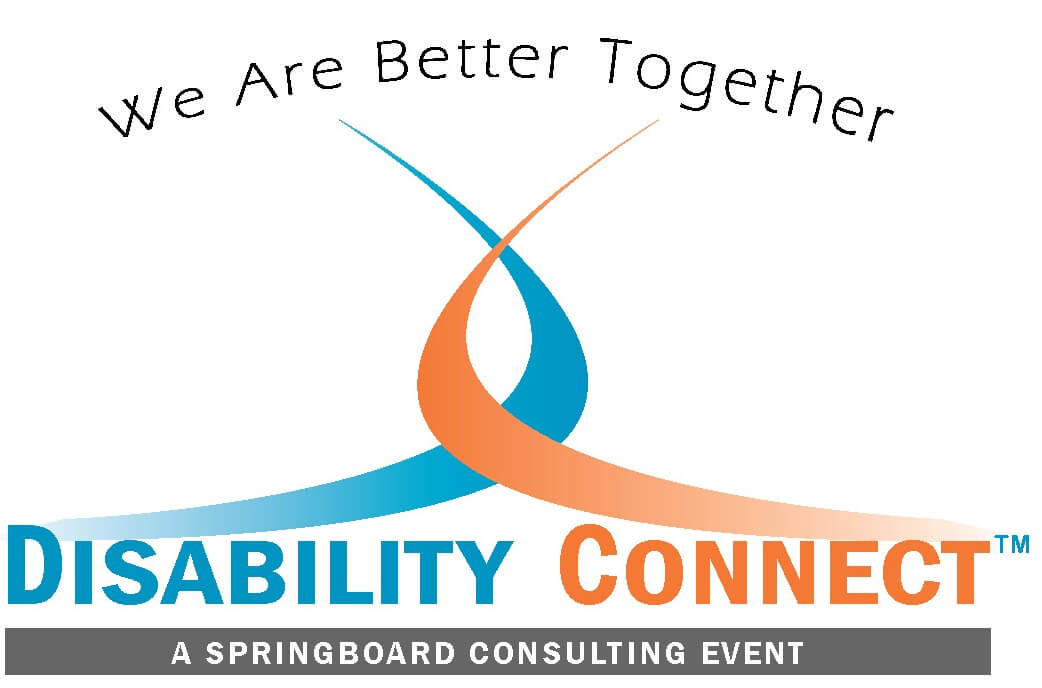 THURSDAY, OCTOBER 22, 2015:

Time
Topic
Location
8:30 am - 9:00 am
Registration & Continental Breakfast
9:00 am -  9:15 am
Welcome to The Disability Connect Forum:

Wells Fargo Executive
TBD
Nadine Vogel
CEO, Springboard Consulting

9:15 am -  10:45 am
DISCLOSURE:  Disclosure can be an issue for
individuals with disabilities, veterans and those in the
LGBT community.  Shared experiences suggest that
corporate edict rarely accelerates the rate of disclosure.
Positive traction is realized through corporate culture
and a fair and equitable disclosure process that
minimizes risk and highlights the positive outcomes of
disclosing among other things.  ERGs can  influence
processes that guarantee privacy and promote the
values of disclosing to the employee including, but not
limited to issues of career development.  This session will
get at the heart of the issues and explore best practices for
addressing this very important topic.
10:45 am - 11:00am
Break
11:00 am - 12:15 pm
BARRIERS & MYTHS:
All three BRGs face a legacy of outdated thinking and
misunderstanding. Examples include: leaders associating
accommodations with high costs, colleagues believing that
those with Post Traumatic Stress are a danger in the
workplace or that LGBT is a sexual preference rather than
a sexual orientation. BRGs can counter these myths through
strategic activities and awareness based on fact. They can
influence the need to integrate this information into core
leadership training, ultimately building more inclusive
leaders. This session will address the barriers and myths
which hinder the integration of veterans, individuals with
disabilities and LGBT and will provide scalable solutions
for BRG leaders, including how best to extend the welcome
mat to allies through their name, mission, messaging and
inclusive culture.
12:15 pm - 12:45 pm
Keynote Presentation:
12:45 pm – 1:30 pm
LUNCH
1:30 pm – 1:45 pm
Speaker:
1:45 pm – 3:00 pm
ETIQUETTE:  Language, whether verbal or physical,
matters. Veterans, people with disabilities and those in the
LGBT community have been slighted and demeaned often
inadvertently, but impacted none the less. Managers and
colleagues must be educated on the correct way to engage
with someone in a wheelchair or speak with someone who is
hearing impaired. What is the appropriate reference when
asking about a life partner or how to engage with someone
transgender? What questions are appropriate when
welcoming a veteran back from active duty? Etiquette
breaches are often a matter of lack of understanding
and knowledge but at times can be pure bias (conscious and
unconscious), which sometimes manifests itself as
bullying – a different problem. This session will address
how a BRG can influence the corporation's commitment to
competence and practice of appropriate etiquette
and at the same time; ensure that within their own
constituency they practice best practices
3:00 pm - 3:15 pm
Break
 
3:15 pm - 4:30 pm
FINANCIAL EDUCATION: Veterans, people with
disabilities and LGBT share the need for specialized
financial education for both short and long term needs.
Veterans who are accustomed to their needs being taken care
of by the military find themselves on their own for budgeting,
savings and retirement planning. People with disabilities
may have needs for equipment or therapies that are not
covered by a health insurance plan or special needs parents
may needs to address planning for the future of their loved
ones with disabilities. Those in the LGBT community will
be diligent about the assignment of financial decisions
particularly as they relate to partners. This session will
address how a BRG can be a first point of contact for a
company to better understand these issues relative
to its own employees and to its customers.
4:30 pm – 4:45 pm
Wrap-Up; Next Steps
HOTEL  INFORMATION & GROUND TRANSPORTATION
The Second Annual Disability Connect Forum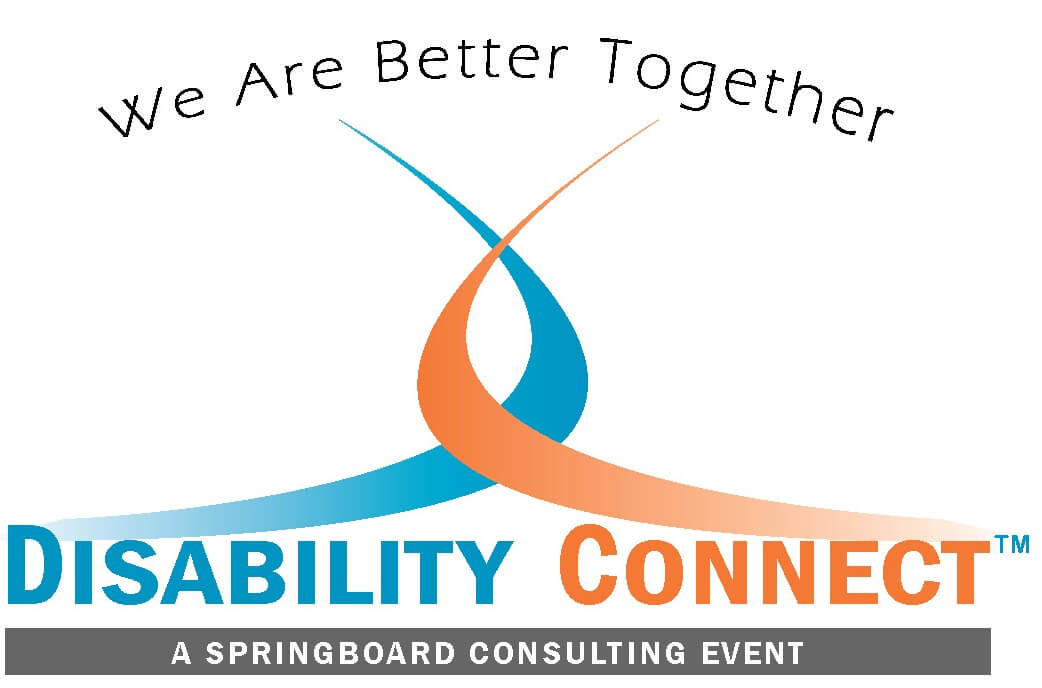 CART Captioning will be provided at event.
HOTEL INFORMATION
Listed below is the host hotel which offers the Wells Fargo discounted rate upon request and availability.
THE WESTIN CHARLOTTE
601 South College Street, Charlotte, NC 28202
T: 704.335.2053; F: 704.335.2110
Book a Room:
As a reminder, all guests should make reservations by 10/07/2015.
Via the Online System:
DIRECTIONS TO WHOLESALE UNIVERSITY AT DUKE ENERGY CENTER
- 550 SOUTH TRYON STREET
Wholesale University at Duke Energy Center is located at 550 South Tryon Street, 10th floor in Charlotte. We are at the corner of Tryon Street and West Stonewall Street, across the street from the Gant Center.
From Charlotte Douglas International Airport:
Head east on Airport Loop Rd toward Airport Parking Dr. Turn right at Old Dowd Rd. Take the 2nd left onto Boyer St. Take the 1st right onto US-74 E/Wilkinson Blvd. Continue to follow US-74 E/ Continue onto I-277 N. Take exit 1E to merge onto S College St toward Bobcats Arena. Turn left at E Stonewall St. Turn Right into the parking garage below The Duke Energy Center. Park on Level 1 or 2. Take elevator up to the Plaza Level.
PARKING & BUILDING ACCESS:
Parking deck entrances for visitors can be found on West Stonewall Street and Church Street.
Visitors and other non-contract parkers should access the Visitor parking zone through the entrance on West Stonewall Street or Church Street. Visitor parking is located on levels P1 and P2 only.
Visitor spaces may be limited during peak business hours.
Park in the P1 or P2 Visitor zone in the parking deck.
Take the Tower elevators to Lobby level.
Visitors should check in with security at the Visitor Registration Desk.
Once registered, visitors must show a visitor pass to the security officer to access the elevators serving the office tower.
Below is a map on how you access the parking garage:
GROUND TRANSPORTATION*
TO/FROM Airport, Venue, and/or Hotel:
Rose Transportation: for ground transportation needs. She can be reached at 704-552-8258 or diana@riderose.com.  Airport to uptown can typically cost $25-35 one way.
REASONABLE ACCOMMODATIONS REQUEST*
*Event venue is approximately 2 blocks from recommended conference hotel.  If accessible transportation is requested, please send an email to Jill Frankel (jill@consultspringboard.com) no later than October 1, 2015.
REGISTRATION PROCESS – SINGLE-TICKETS
The Second Annual Disability Connect Forum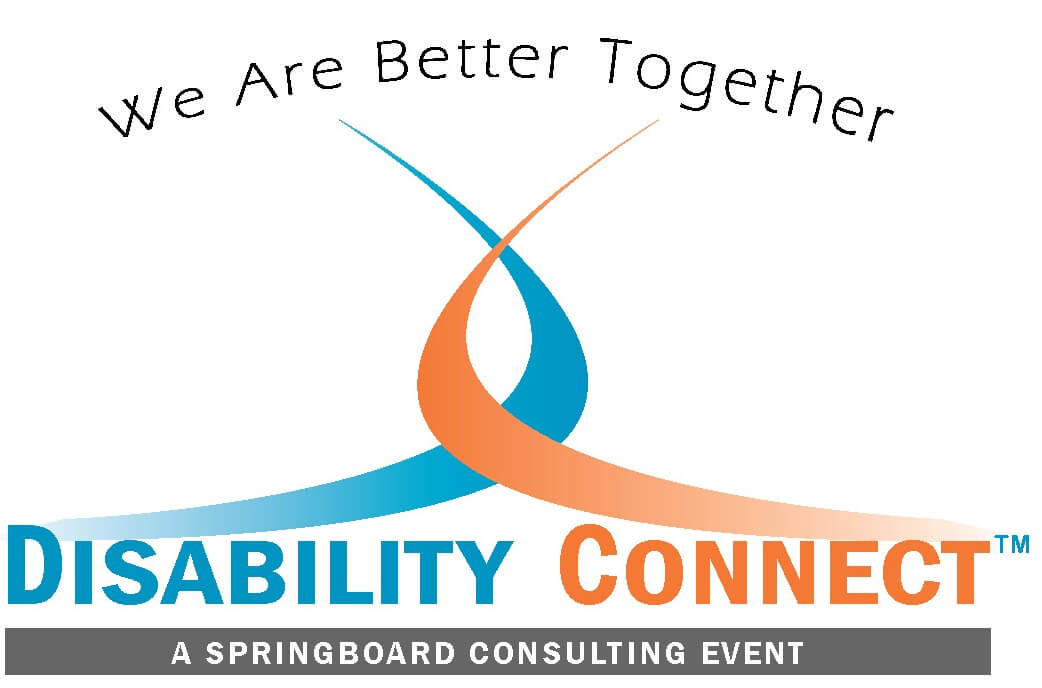 In order to register your payment must first be received.  If you have not submitted a payment, please contact Jill Frankel at 973-813-7260 x. 106 or via email at jill@consultspringboard.com.