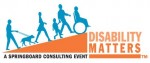 Springboard Consulting, LLC® is pleased to welcome you to the 5th Annual Disability Matters Awards Banquet & Conference
San Jose, California
April 6 & 7, 2011
The 2011 conference will be held April 6th & 7th at Cisco headquarters in San Jose, California.
The event will feature an outstanding keynote speaker, as well as leading disability experts from corporate America, academia, national non-profits, and the federal government. In addition, we will be sharing award-winning practices and programs related to the support of people who either have a disability or have a child or other dependent with special needs in the workforce, workplace and marketplace.
Please join us and our host sponsors, Cisco and Northrop Grumman Corporation, both prior year honorees, to network, share best practices and celebrate successess.
We look forward to seeing you at the 2011 Disability Matters Awards Banquet & Conference. We are confident you will leave the conference educated, inspired and motivated to see that disability-focused initiatives are not just a strategic advantage, but a business imperative.