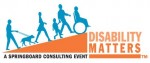 The Cisco Accessible Technology Tour Package Details
The tour will take place on the afternoon of Wednesday, April 6, 2011, prior to the event's Welcome Reception and is FREE OF CHARGE to conference attendees.
The Tour Package includes:
1) Cisco's Accessible Technology Design Lab
The Accessibility Design Lab is a state of the art facility dedicated to excellence in the design of Cisco products. It provides a research environment in which developers, engineers, product managers, documentation writers, and researchers can observe the usage of our products by people with disabilities. The lab features all standard assistive technologies, a one-way mirror, and full digital audio and video recording capabilities. This lab is also available to field sales and customers to demonstrate the accessibility of Cisco's products. This lab was set up in partnership with the User Experience Team and Corporate Compliance.
2) A Demo of Cisco's Telepresence Technology
Cisco Telepresence powers the new way of working, where everyone, everywhere can be more productive through face-to-face collaboration. Welcome to your future, in the office and on the road.
3) The Executive Briefing Center Self-Guided Tour
The Cisco Executive Briefing Center (EBC) offers unparalleled access to Cisco executives, Subject Matter Experts (SMEs), as well as live and virtual demonstrations so customers can hear and see how Cisco can help position their company for success. A visit to the EBC accelerates and increases the opportunity size by expanding the customer's vision of how Cisco's solutions, product and technology can turn their network into a competitive advantage.
The San Jose Executive Briefing Center, located at the Cisco Corporate Headquarters in San Jose, California, consists of both a traditional Briefing Center as well as a Virtual Briefing Center.
To participate in the Tour Package, you must register by clicking Continue
If you are not interested in the Accessible Technology Tour and would like to end the registration process, click Done.