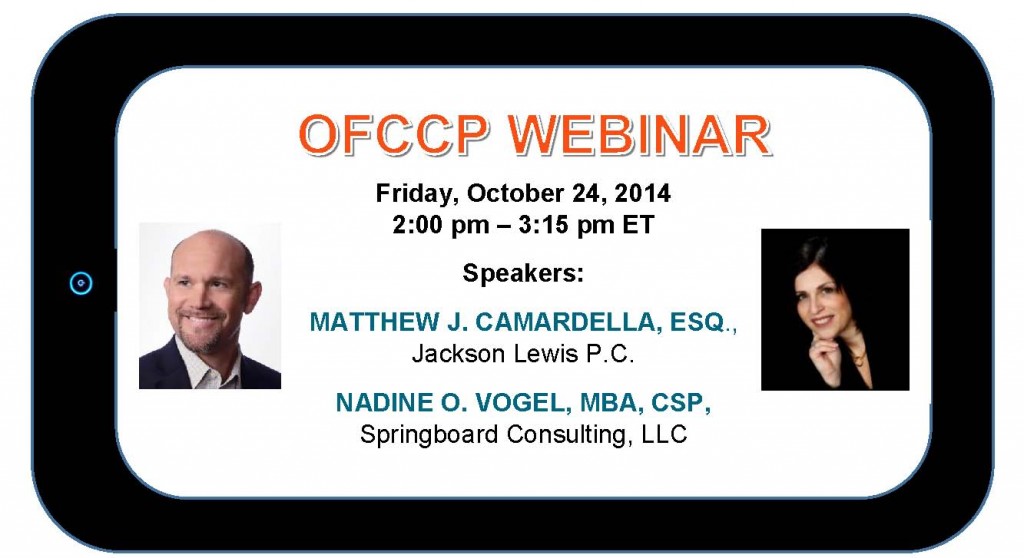 OFCCP'S NEW DISABILITY REGULATIONS AND THE DUALITY OF COMPROMISE:
How to Balance the Legal Requirement with the Practical Implications

Join Matthew J. Camardella, a Shareholder in the Long Island office of Jackson Lewis P.C., and Nadine Vogel, CEO, Springboard Consulting, as they discuss the tension employers face between legal compliance with, and practical implementation of the affirmative action regulations for individuals with a disability.
Matt will provide a point-by-point breakdown of the regulations' legal requirements, including recruitment obligations, goal-setting, and applicant and employee voluntary self-identification.
Nadine will provide everyday implementation tools for the HR Professional, including how to request that a Company's workforce self-identify as disabled without raising alarms, diversity outreach techniques, evaluating good-faith efforts in light of the new regulations, and ensuring an environment of inclusion.
Together, Matt and Nadine will ensure companies are poised to achieve an appropriate balance between legal compliance and practical implementation.
There is no cost to participate!  To Register, please complete the form below and then submit.  If there are any questions, please do not hesitate to contact us at info@consultspringboard.com.
REGISTRATION IS NOW CLOSED.