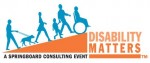 Hotel Information
Listed below are suggested hotels in the San Jose, CA area, which are near Cisco's headquarters:
Crowne Plaza (Please note: A block of rooms have been secured which offer the Cisco discounted rates upon request and availability.)
777 Bellew
Milpitas, CA 95035
408.321.9500
www.ichotelsgroup.com
Online and phone reservations will be accepted beginning 01/25/2011.
A dedicated booking website has been created for the Crowne Plaza guests.  You will be able to make, modify and cancel hotel reservations online, as well as take advantage of any room upgrades, amenities or other services offered by the hotel.
To access the website, please click the following link:
https://resweb.passkey.com/go/CiscoDisabilityMatters
Distance to San Jose Campus: > 1 Mile
Complimentary shuttle to campus and San Jose Airport.
If you require accessible transportation from the Crowne Plaza to the conference, please email your request to: jill@consultspringboard.com.
Santa Clara Hilton
4949 Great American Parkway
Santa Clara, CA 95054
408.330.0001
www.santaclara.hilton.com
Distance to San Jose Campus: 2.4 Miles
Hyatt Regency Santa Clara
5101 Great America Pkwy
Santa Clara, CA 95954
408.200.1234
www.santaclara.hyatt.com
Distance to San Jose Campus: 2.4 Miles
San Jose Sheraton
1801 Barber Lane
Milpitas, CA 95035
408.943.0600
www.sanjosesheraton.com
Distance to San Jose Campus: 1.4 Miles
Complimentary shuttle to campus and San Jose Airport