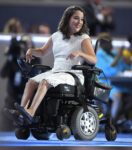 Anastasia Somoza exits the stage after speaking about disability rights during the first day of the
Democratic National Convention in Philadelphia , Monday, July 25, 2016. 
(AP Photo/Mark J. Terrill)
ANASTASIA M. SOMOZA
Anastasia is leading the inclusion revolution as a human rights advocate, speaker and consultant. She spoke during prime-time at the first night of the 2016 Democratic National Convention with a moving speech on American's with disabilities.
Currently Anastasia is traveling the country as a surrogate speaker for the Hillary for America campaign, recently recorded an interview for Lena Dunham's Women of the Hour podcast, and spoke at Laugh Your PantsuitOff, a comedy fundraiser, hosted by Ana Gasteyer and Amy Poehler.
In 2015 she traveled to Beijing, China where she spoke at the Smart Lady Smart Life International Youth Action for Gender Equality and Sustainable Development Forum. During this time abroad she also spoke at the United States Embassy Beijing American Center in celebration of the 25th anniversary of the American's with Disabilities Act.
Born and raised in New York City, she is fluent in both English and Spanish, and has been politically engaged and advocating for others since the age of nine.
She graduated from Georgetown University with a BA in government and received her MSc in Human Rights from the London School of Economics and Political Science.
A letter Anastasia wrote, addressing representation of people with disabilities and the importance of forgiveness, was recently published in Amy Poehler's book Yes Please.
When in New York City, Anastasia works as a consultant with the Shield Institute, an organization that enables people with intellectual and developmental disabilities to live full, meaningful lives.