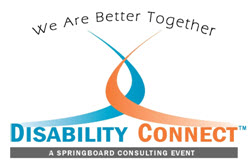 The 2017 North America
DISABILITY CONNECT FORUM
"We Are Better Together"
March 2, 2017
MENDHAM, NJ (9/13/16)
- Springboard Consulting, LLC is excited to announce the production of our third annual Disability Connect Forum. Disability Connect is a full day event specially designed for Disability, LGBT and Veteran Employee Resource Group members, leaders and their sponsors to address the common issues, intersections and resulting opportunities of collaboration and in doing so, creating a more inclusive and effective workplace.
Aligning with the Forum's theme, "Communities in Common", Disability Connect provides attendees with the perfect platform for:
Understanding each other's workplace related issues,
Making powerful connections with like-minded professionals,
Sharing best practices, and
Formulating success strategies to implement in your own organizations.
"We are honored to have KPMG, LLP serve as the Host of the 2017 event. Their hosting speaks volumes about their commitment to these very important constituencies within their workplace," said Nadine Vogel, Chief Executive Officer of Springboard Consulting.
We hope you will join us on March 2, 2017 in Los Angeles, CA for what is sure to be a highly educational, inspirational and powerful event.
Companies interested in becoming a proud sponsor and/or purchasing tickets should contact:  Ivette Lopez
---
ABOUT SPRINGBOARD CONSULTING®
Founded in 2005, Springboard is recognized as the expert in mainstreaming disability in the global workforce, workplace and marketplace. Serving corporations and organizations throughout the U.S., Canada, Europe and Asia, Springboard has become a trusted partner in relation to disability issues and initiatives across virtually every business category. Springboard annually honors exemplary organizational initiatives that promote the outreach, support & engagement of people with disabilities as employees and as consumers though the Disability Matters Awards.  www.consultspringboard.com