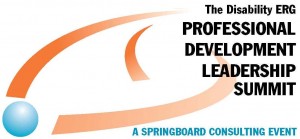 SPONSORED BY:       
DATE & LOCATION:
Tuesday, April 8th, 2014
8:30 AM-4:30 PM CST
Time Warner Cable Headquarters
1900 Blue Crest Lane
San Antonio, TX 78247
MESSAGE:
Starting or restarting a Disability ERG?  Transitioning from an Affinity or Employee Resource Group to Business Resource Group? Looking for innovative, game changing ideas?  Then Springboard's Disability ERG Professional Development Leadership Summit is the place to be.
This one day, intensive, in-person session with other Disability ERG leaders and their Executive Sponsors will be invaluable in helping you successfully take your group to the starting blocks of success and beyond.
And remember, the Summit takes place just before the Disability Matters Conference so plan on attending both to make 2014 a truly game-changing year for your Disability ERG and all your disability related initiatives.

   Approved for 6.75 Credit Hours 
 "The use of this seal is not an endorsement by the HR Certification Institute of the quality of the program. It means that this program has met the HR Certification Institute's criteria to be pre-approved for recertification credit."
REMINDER:
Show your commitment to the success of your company's Disability Employee Resource Group by joining our amazing presenters, your peers and our Summit Host, Time Warner Cable on Tuesday, April 8th at TWC headquarters in San Antonio, TX for a one-of-a-kind experience of education and networking.  
While in town, the 2014 U.S. Disability Matters Conference & Awards, starting the evening of Tuesday, April 8th and continuing for two days, Wednesday and Thursday, April, 9 & 10 at Morgan's Wonderland in San Antonio, TX . If you are interested in attending please visit - https://consultspringboard.com/category/disability-matters/disability-matters-2014-us/ or contact Belinda Moore at belinda@consultspringboard.com or via telephone: 1-973-813-7260 x. 109 for more information.
HOTELS:
Hyatt Regency San Antonio Riverwalk
123 Losoya Street
San Antonio, TX 78205
United States
T:  210-222-1234
Reservations:  Link coming soon!  (corporate discounts will be available.)
GROUND TRANSPORTATION:
TBD
SHUTTLE SERVICES:
Round trip shuttle service will be provided to the Time Warner Cable building from Hyatt Regency
San Antonio Riverwalk.
PARKING:
Parking is free available in the lot directly in front of the Time Warner Cable main entrance.
Time Warner Cable Headquarters - Parking Lot E
1900 Blue Crest Lane
San Antonio, TX 78247
Located directly across the street from 1900 Blue Crest Lane.