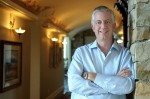 Gordon V. Hartman 
Native San Antonian Gordon V. Hartman is a philanthropist and former businessman who is the Founder of The Gordon Hartman Family Foundation. At age 15, while attending a local seminary, he started his own landscaping business. By age 19, he had earned and saved enough to begin his homebuilding business, and by age 23, he had started a land development company.
From his small efficiency apartment, Gordon founded Gordon Hartman Homes in 1983 and began to build homes for low to moderate income families. Over the next 22 years, he grew his company into the largest locally owned homebuilding and land development enterprise in San Antonio.
In 2005, Gordon sold his companies and established The Gordon Hartman Family Foundation to which he and his wife, Maggie, have donated $15 million to date to pursue their dream of helping children and adults with special needs. Their devotion to this cause is inspired by their 19-year-old daughter, Morgan, who was born with cognitive and physical special needs.
In 2007, Gordon recognized the tremendous need for accessible outdoor recreational facilities for individuals with special needs. So he made another dream come true – the April 2010 grand opening of Morgan's Wonderland, the world's first ultra-accessible family fun park designed with special-needs individuals in mind and built to be enjoyed by everyone. This unique and colorful park has already welcomed more than 300,000 guests from all 50 states and some 40 countries. Gordon's realization that families with special-needs members have increased demands on both their financial and emotional resources led to his commitment to admit anyone with a special need free of charge.
Also in 2010, Gordon opened the STAR (South Texas Area Regional) Soccer Complex adjacent to Morgan's Wonderland. This 75-acre soccer facility hosts practices, league play and tournaments for teams across Texas. All net profits go to Morgan's Wonderland to help defray operating expenses as well as to expand programs and services for the special-needs community.
Another outgrowth of Morgan's Wonderland is Monarch Academy, a school for students with special needs that Gordon opened in August 2011. It's a unique learning environment that enables students from ages 12 to 24 to reach their maximum individual potential.
Gordon also secured a franchise in the North American Soccer League (NASL), one step removed from Major League Soccer. The San Antonio Scorpions FC had an outstanding inaugural year in 2012 winning the NASL Regular Season Championship and averaging almost 10,000 fans per game. Like STAR Soccer, the Scorpions convey all net profits to Morgan's Wonderland. It's the first team in pro sports history to be organized for the benefit of a non-profit dedicated to helping those with special needs.
In August 2012, global automotive giant Toyota announced its presenting sponsorship of the Scorpions' new stadium, now known as Toyota Field. The 8,000 seat stadium and entertainment venue, which will open in spring 2013, is expandable in phases up to 18,000 seats. Toyota also became presenting sponsor of Morgan's Wonderland under a long-term philanthropic agreement with Gordon.
Because of his generosity and vision, Gordon has earned numerous local, regional and national honors. In December 2011, he received an honorary doctorate of social work from San Antonio's Our Lady of the Lake University. Gordon remains firm in his conviction: "Together, we can make a difference!"