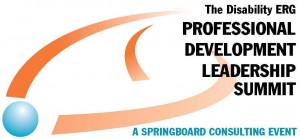 HOSTED BY  
DATE & LOCATION:
Tuesday, April 14, 2015
8:00 AM - 4:00 PM EDT
Unum Headquarters
1 Mercantile Street
Worcester, MA 01608
MESSAGE:
Many factors contribute to a successful Disability Resource Group.  Whether you refer to yours as an Employee, Affinity or Colleague Resource Group, having the right leadership team and the right executive sponsor can make all the difference.  This year's Summit will address these two important issues and many more.  
Attend the 2015 Summit for:
Candid discussions with today's leading Disability ERG Executive Sponsors

Insight into proven ERG leadership training and coaching programs

Innovative, game changing ideas and best practices

Networking with like-minded peers from across Corporate America
This one-day intensive in-person session will be invaluable in helping you successfully start, re-start and/or grow your Disability Resource Group.  
The Disability ERG Summit takes place just before the Disability Matters Conference so plan on attending both to make 2015 a truly game-changing year for your Disability ERG and all your disability related initiatives.
*See the value priced combo ticket special below.

Approved for 6.00 Credit Hours
PRICING*:
$495 (USD)

$395 (USD) Disability ERG Leadership Networking Forum Subscribers and Sponsors of the 2015 Disability Matters N.A. Conference & Awards. *Includes continental breakfast and lunch

$1,299.00 (USD) Value Priced Single Combo Ticket: Disability Matters Conference/Disability ERG Summit (Regularly $995 + $495= $1,490.00)
 RSVP:
Purchase a ticket and register no later than Tuesday, March 27, 2015 or until capacity is reached – https://consultspringboard.com/2015ergpdl/   
Should you have any questions, please contact Jill Frankel at jill@consultspringboard.com or via telephone:  973-813-7260 x. 106. 
---
ABOUT SPRINGBOARD CONSULTING® Founded in 2005, Springboard is recognized as the expert in mainstreaming disability in the global workforce, workplace and marketplace. Serving corporations and organizations throughout the U.S., Canada, Europe and Asia, Springboard has become a trusted partner in relation to disability issues and initiatives across virtually every business category. Springboard annually honors exemplary organizational initiatives that promote the outreach, support & engagement of people with disabilities as employees and as consumers through the Disability Matters Awards.