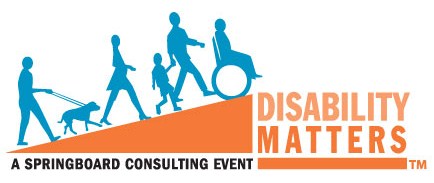 ONLY 20-BUSINESS DAYS!
Until the Most Important Corporate Conference on Disability...
What:   The 2014 #DisabilityMattersNorthAmerica Conference & Awards            
When:  April 8-10, 2014 
Where: #Morgan'sWonderland, San Antonio, Texas 
Why:  Because you must not miss this #amazing #opportunity to be #educated and inspired by leading authorities in government and corporate America who will share #best #practices on the issues, opportunities and practices of mainstreaming disability in the workforce, workplace and marketplace.  In addition, you will want to celebrate and network with these amazing individuals, but most of all, it will make a positive difference in your company's bottom line.
Join #SpringboardConsulting, LLC,  
Our Host: #Toyota Motor Sales USA Inc.
Our Sponsors:
Platinum: Dell, Inc.,
Gold: Adecco Group N.A., Colgate-Palmolive Company, EMC Corporation*, Prudential Financial, Inc., UNUM;
Silver: AIG, Ingersoll Rand, Intuit, Office Depot Inc, Sprint;
Bronze: 3M, Abercrombie & Fitch, AT&T, Allstate, Capital One, CSX Corporation,
CVS Caremark, ESPN, Genentech, General Motors Company, L'Oreal USA,
Life Technologies Corporation*, Pfizer, Procter & Gamble Co, PwC, UPMC. *Global Disability Matters Sponsor
 And 
Our Honorees: 
Workforce Award: AT&T ◦ Exelon Corporation ◦ Office Depot Inc ◦ UPMC
Workplace Award: Fifth Third Bank ◦ Rush University Medical Center,
Steps To Success Award: Brown-Forman ◦ Genentech ◦ PricewaterhouseCoopers,
Disability Champion Award: 
Dawn Ehrhart, Senior VP, Adecco Group NA
Margaret Madden, VP, Assistant General Counsel, Pfizer
Brad Hopton, Partner, PricewaterhouseCoopers
For an experience you will never forget and one that will benefit your company long after the conference ends.  To obtain additional information and to register, click here>> https://consultspringboard.com/2014nadm-reg-singletkt-welcome/. Should you still have questions, please contact Jill Frankel at T: 1-973-813-7260 x. 106; E: jill@consultspringboard.com.
---
ABOUT SPRINGBOARD CONSULTING®
Founded in 2005, Springboard is recognized as the expert in mainstreaming disability in the global workforce, workplace and marketplace. Serving corporations and organizations throughout the U.S., Canada, Europe and Asia, Springboard has become a trusted partner in relation to disability issues and initiatives across virtually every business category. Springboard annually honors exemplary organizational initiatives that promote the outreach, support & engagement of people with disabilities as employees and as consumers though the Disability Matters Awards.
www.consultspringboard.com
ABOUT TOYOTA MOTOR SALES USA, Inc.
Toyota, the world's top automaker and creator of the Prius, is committed to building vehicles for the way people live through our Toyota, Lexus and Scion brands.  Over the past 50 years, we've built more than 25 million cars and trucks in North America, where we operate 14 manufacturing plants (10 in the U.S.) and directly employ nearly 40,000 people (more than 37,000 in the U.S.).  Our 1,800 North American dealerships sold more than 2.3 million cars and trucks in 2012 – and about 80 percent of all Toyota vehicles sold over the past 20 years are still on the road today.
To date, Toyota has contributed more than $700 million to American nonprofit groups.  For more information about Toyota's contributions in the U.S., visit www.toyotainaction.com .
---