RECRUITING QUALIFIED CANDIDATES WITH DISABILITIES?
Is your #TalentAcquisition (TA) team equipped with the tools and the know-how to appropriately and effectively recruit individuals with #disabilities?  They need to be; especially, if your company is a U.S. #Federal #Contractor required to comply with the #OFCCP's 7% Utilization Goal.
One way to accomplish this is by equipping your TA team with #Springboard's comprehensive Talent Acquisition #Toolkit.  This toolkit provides On-Campus and Experienced Recruiters with guidance on disability considerations, builds confidence in making better-informed decisions about applicants/candidates with disabilities and, at the same time, mitigates the risk of disability discrimination.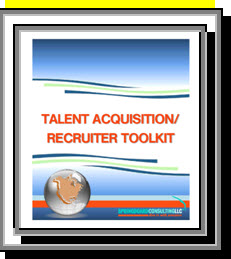 Each section of this Toolkit includes four components:
Legal-ease Simplified highlights the Company's legal nondiscrimination responsibilities associated with the recruitment activity using easy-to-understand language. The information contained in this section applies to both On-Campus and Experienced Recruiters.
What This Means explains how the disability nondiscrimination requirements can affect a recruiter's interactions, impressions and decisions about potential candidates/applicants.
Life Preservers provide practical solutions to eliminate barriers commonly experienced by candidates/applicants across disabilities during the talent identification and selection phases.
Dive Deeper presents a variety of self-guided activities that reinforce understanding of new knowledge, develop problem-solving skills, help to gain confidence and finally, that promote adherence to standardized and compliant recruitment policies and processes when engaging candidates with disabilities. Where appropriate, different activities are included that applies to On-Campus Recruiters and those that apply to Experienced Recruiters.
The use of Springboard's Talent Acquisition Toolkit will positively impact your overall disability recruiting strategy. 
Order yours today, click on the following link and download Springboard's Product Order Form >> https://consultspringboard.com/wp-content/uploads/2010/10/Product-Order-Form-09192014.pdf. 
Please complete and return for processing to ivette@consultspringboard.com.
---
ABOUT SPRINGBOARD®
Founded in 2005, Springboard is recognized as the expert in mainstreaming disability in the global workforce, workplace and marketplace. Serving corporations and organizations throughout the U.S., Canada, Europe and Asia, Springboard has become a trusted partner in relation to disability issues and initiatives across virtually every business category. Springboard annually honors exemplary organizational initiatives that promote the outreach, support & engagement of people with disabilities as employees and as consumers through the Disability Matters Awards.