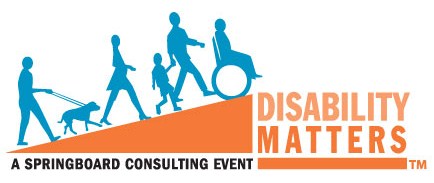 2014 Disability Matters North America
Conference and Awards
Following our recent announcement of this year's speakers, including the very special session with Patricia Shiu, Director of the Office of Federal Contract Compliance Programs (#OFCCP), #registrations are at an all time high with many of our #sponsors and #honorees requesting additional tickets. As with any conference, there are a limited number of seats so if you and your colleagues are planning on attending, we strongly encourage you to register right away. 
To Register please visit: https://consultspringboard.com/2014nadm-reg-singletkt-welcome/ 
Please also do not forget about #Springboard's #Disability #ERG Professional Development Summit, which will also take place in #San Antonio, #Texas on April 8, 2014. If you intend on being at the #Disability #Matters #Event, you may also be interested in the ERG Summit. For more information and/or to purchase a ticket and register, please visit >> https://consultspringboard.com/erg-pdl-summit-2014/
---
ABOUT SPRINGBOARD®
Founded in 2005, Springboard is recognized as the expert in mainstreaming disability in the global workforce, workplace and marketplace. Serving corporations and organizations throughout the U.S., Canada, Europe and Asia, Springboard has become a trusted partner in relation to disability issues and initiatives across virtually every business category. Springboard annually honors exemplary organizational initiatives that promote the outreach, support & engagement of people with disabilities as employees and as consumers through the Disability Matters Awards.
---