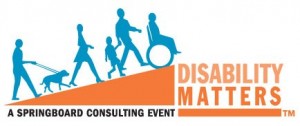 SAVE THE DATE
2014 Awards Applications
NOW available
The 2014 DISABILITY MATTERS ASIA-PAC Region Conference & Awards
June 30-July 1, 2014
Tokyo, Japan
Produced by Springboard Consulting
Hosted by: AXA Life Japan
What:  #Springboard Consulting' second annual #DISABILITY MATTERS #ASIA-PAC #Region Conference & Awards, recognized as the premier #global #event for corporate executives to come together for the purpose of #learning today's best and next practices relative to the mainstreaming of individuals with #disabilities in the global #workforce, #workplace and #marketplace. 
This two day event, hosted by AXA Life Japan, features #executive presenters from #corporations along with experts from #government, #academia and the #non-profit sector as well as #keynote speakers that are sure to educate and inspire everyone. 
The highlight of the conference includes an award ceremony at which time winning corporations are honored with the prestigious Disability Matters Award for their outstanding commitment to, and success with, related Workforce, Workplace and/or Marketplace initiatives.  To request your application to be considered for the 2014 Disability Matters ASIA-PAC Region Award contact Sigrid@consultspringboard.com
     Who:   Corporate executives representing such areas as human resources,
                   diversity, marketing, disability employee resource groups, corporate social responsibility.
     Where:  #Sheraton Miyako Hotel
                      1-1-50, Shirokanedai,
                     #Minato-ku, #Tokyo 108-8640, #JAPAN
  Information:  Companies interested in becoming a #proud sponsor, #purchasing tickets, requesting an #Award application or requiring additional information, contact: Sigrid Senamaud (T: 973- 813 - 7260 x5); Sigrid@consultspringboard.com)    
This information should not be construed as "legal advice" for a particular set of facts or circumstances. It is intended only to be a practical guide for participants familiar with this subject. Users should seek appropriate legal advice tailored to address their specific situation.