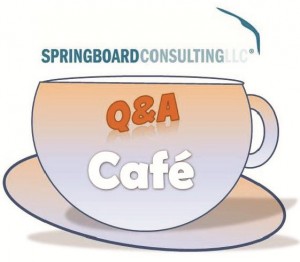 SPRINGBOARD'S Q & A CAFÉ
Enjoy a virtual cup of coffee, network and
get answers to your most pressing questions.
How would you like the opportunity to:
Regularly chat and network with other corporate leaders regarding disability issues without ever leaving your desk?
Ask your most pressing disability related questions and get answers from today's leading experts?
Learn about the

latest legislation, key issues and best practices

relative to mainstreaming disability in the workforce, workplace and marketplace?
Experience this on a monthly basis and at no charge?
 If you've answered yes to one, two, three or all four of the above questions then
Springboard's newly established Q & A Café is for you.
There's no cost, no obligation, no commitment; only the opportunity to participate as you wish.  If interested in participating in Springboard's Q & A Café please email us to opt-in to our communications at info@consultspringboard.com, Subject: Q&A Café, please also include your company name and telephone number.  We will only use this information only to alert you to Café dates, times and dial-in information and communicate with you about your most pressing topics.
---
ABOUT SPRINGBOARD CONSULTING®
Founded in 2005, Springboard is recognized as the expert in mainstreaming disability in the global workforce, workplace and marketplace. Serving corporations and organizations throughout the U.S., Canada, Europe and Asia, Springboard has become a trusted partner in relation to disability issues and initiatives across virtually every business category. Springboard annually honors exemplary organizational initiatives that promote the outreach, support & engagement of people with disabilities as employees and as consumers through the Disability Matters Awards.
---
This information should not be construed as "legal advice" for a particular set of facts or circumstances. It is intended only to be a practical guide for participants familiar with this subject. Users should seek appropriate legal advice tailored to address their specific situation.