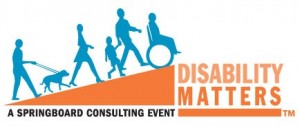 MENDHAM, NJ (9/13/12) – Springboard Consulting LLC announces its seventh Annual U.S. Disability Matters Awards Banquet and Conference, to be held April 15-17, 2013 at Florida Blue's headquarters in Jacksonville, FL.
Thanks to our Host, Florida Blue, a previous recipient of the Disability Matters Award, we have expanded this most important corporate event to two full days of content plus an awards dinner banquet and a networking event the evening prior, allowing for even more information and best practices to be shared than ever before. Of course inspirational keynote presentations are always a hi-light of the conference which at the 2013 event will include Dave Clark. Dave, a Florida resident, is a man of extraordinary will and perseverance. Stricken with polio at a young age, Dave has grown to accomplish many things from being the only pro-baseball player to pitch from crutches to coaching for Major League Baseball International. His story is what some might consider the greatest, "mostly unknown" professional sports account of our time that teaches unforgettable life lessons.
As is the case for most events, the 2013 U.S. Disability Matters Awards Banquet & Conference could not happen without our dedicated sponsors. Sponsors to date are:
HOST SPONSOR
Florida Blue
WELCOME RECEPTION HOST
Adecco Group NA
PLATINUM
Northrop Grumman Corporation  ♦  Toyota Motor Sales, USA
GOLD  
Colgate-Palmolive Company  ♦  KPMG, LLP  ♦  Marsh & McLennan Companies  ♦  Prudential Financial, Inc.
SILVER
EMC Corporation  ♦  General Motors  ♦  HSBC  ♦  Procter & Gamble
BRONZE
CSX Corporation  ♦  IBM  ♦  Ingersoll Rand  ♦  PSEG  ♦  PwC  ♦  Time Warner Cable, Inc.  ♦  UPMC  ♦  Visa
As in prior years, the Disability Matters conference will feature executive presenters from corporate America, the federal government, academia and the non-profit sector, sharing their experiences and best practices on how to support and market to this large, loyal segment of the population. In response to overwhelming demand, this years' event will be expanded to two full days of content so that we can address more topics and do a deeper dive on the most critical issues impacting disability in today's corporate arena.
Honorees will be selected in the following categories: Workforce, Workplace & Marketplace as well as the Disability Matters Employer of Choice Award, given to a company that has taken their award-winning initiatives to a level where there is complete synergy between mission and achievement. The Disability Champion Award is open to individuals within an organization at the Executive, Management and Associate levels. For more information on different awards visit https://consultspringboard.com/2011/dm-award-descriptions-and-methodology/.
Companies interested in becoming a sponsor, purchasing tickets, and/or applying for one of these prestigious awards, which honor outstanding commitment to the disabled community in the areas of Workforce, Workplace and/or Marketplace, will find additional information including prior year honorees by visiting https://consultspringboard.com/2011/about-disability-matters-united-states/.
For additional information contact: Jill Frankel: 973-813-7260 x106 or Jill@consultspringboard.com
---
Florida Blue, Florida's Blue Cross and Blue Shield company, is a leader in Florida's health care industry. Our mission is to help people and communities achieve better health. Florida Blue has approximately 4 million health care members and covers 15.5 million people in 16 states through its affiliated companies. Florida Blue is a not-for-profit, policyholder-owned, tax-paying mutual company. Headquartered in Jacksonville, Fla., it is an independent licensee of the Blue Cross and Blue Shield Association, an association of independent Blue Cross and Blue Shield companies. For more information, visit www.floridablue.com